FREE SHIPPING
for orders over 150€ !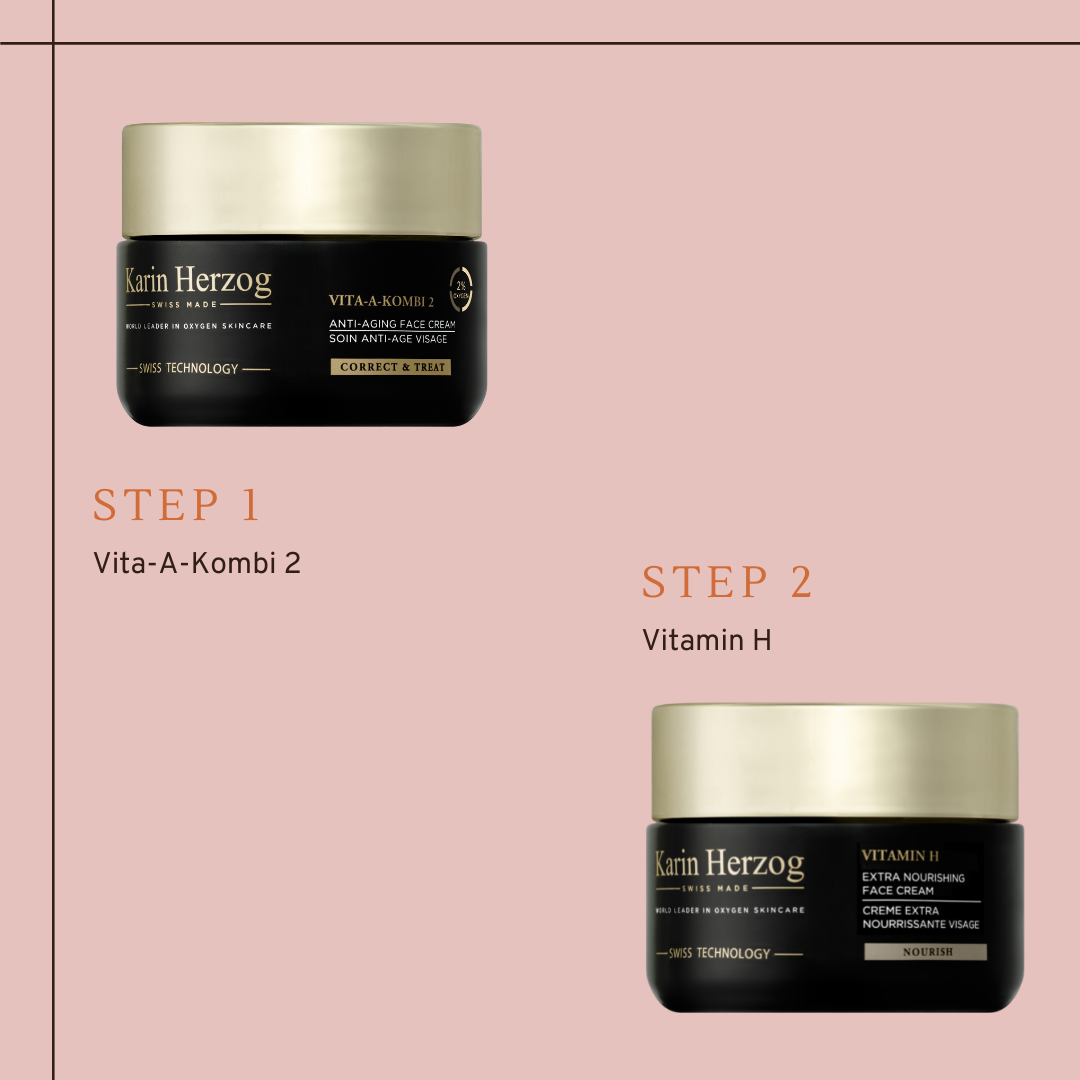 Small Anti-Rosacea Kit
This little Anti-Rosacea Kit helps to reduce the redness of couperose.
Hundreds of loyal customers have reported that they have never had such positive and healing effects as with this cosmetic kit to combat their acne rosacea, which is why we are offering it here at a special price!
This little kit includes :
1 x Vita-A-Kombi 2 50 ml
1 x Vitamin H 50 ml
Vita-A-Kombi 2 :

Composed of 2% active oxygen, this care product combines stabilised oxygen and vitamin A in the same original formula. It ensures an anti-wrinkle action and the vitamin A contained in the cream stimulates the natural production of collagen.

The 2% oxygen helps to combat skin problems, acne rosacea and reduces the visibility of couperose.

Vitamin H :

Containing vitamin H (biotin) and beta-carotene, this cream intensely nourishes, soothes feelings of tightness due to dry skin and restores elasticity for optimal daily comfort.

Beta-carotene gives the skin a natural tan and gradually reduces the appearance of couperose.
Vita-A-Kombi 2 : Aqua (water), Olus (Vegetable) Oil, Glyceryl stearate, Paraffinum Liquidum (Mineral Oil), Tocopheryl acetate, Hydrogen peroxide2%, Polysorbate 80, Stearyl alcohol, Cetyl alcohol, Hydrogenated Vegetable oil, Candelilla Cera (Euphorbia Cerifera (Candelilla) Wax), Cetearyl ethylhexanoate, Retinyl palmitate, Salicylic acid, Fructose, Parfum (fragrance), Isopropyl myristate, Tocopherol, Alpha-isomethyl ionone, Benzyl salicylate, Eugenol, Citronellol, Hydroxycitronellal, Geraniol. Vitamin H: Aqua (Water), Alcohol denat., Olus (Vegetable) Oil, Paraffinum Liquidum (Mineral Oil), Glyceryl stearate, Isopropyl myristate, Tocopheryl acetate, Cetyl alcohol, Stearyl alcohol, Polysorbate 80, Hydrogenated Vegetable oil, Candelilla Cera (Euphorbia Cerifera (Candelilla) Wax), Parfum (Fragrance), Cetearyl ethylhexanoate, Salicylic acid, Helianthus annuus (sunflower) seed oil, Alcohol, Riboflavin, Pyridoxine HCl, Biotin, Formic acid, Thiamine nitrate, Beta-carotene (CI 40800), Daucus carota sativa (carrot) root extract, Glycine Soja oil , Tocopherol, Benzyl benzoate, Benzyl salicylate, Coumarin, Citronellol, Geraniol, Linalool, Benzoic acid.
Vita-A-Kombi 2: Apply a thin layer morning and evening, ideally with a brush, all over a perfectly cleansed face and neck.

Vitamin H: Apply by massaging all over the face, alone or after an oxygen treatment.

We recommend using a comfort cream in addition to an oxygen treatment for skin with a tendency to dryness, to ensure optimal comfort during the natural production of collagen.

Tip for deeply nourishing the skin with Vitamin H: In the evening, massage Vitamin H into the skin and then apply the oxygen cream over it with a brush.
To the best of our knowledge, all product and other information made available on the website is correct. However, all this information, unless otherwise legally stipulated, does not constitute a guarantee, commitment or liability on the part of Dr. Paul and Karin Herzog SA and does not exempt the user from carrying out his own research and tests. The information described here is general information, is not medical advice or treatment and is not intended to replace professional medical care by a qualified or appropriate practitioner. This information is also not capable of making independent diagnosis or relying on their own treatment. Both should be left to a medical practitioner.