FREE SHIPPING
for orders over 150€ !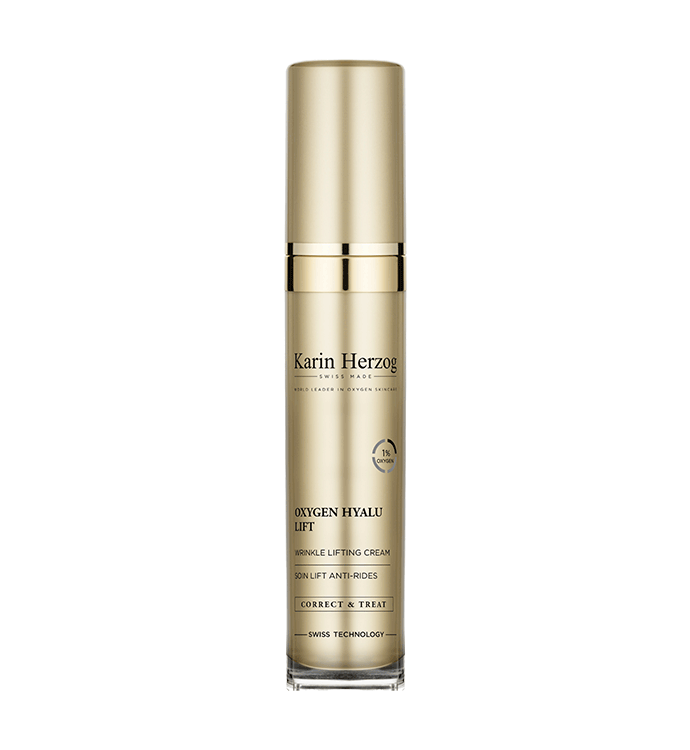 OXYGEN HYALU'LIFT
Wrinkle lifting cream
This advanced lifting treatment combines the benefits of active oxygen with those of hyaluronic acid for a spectacular anti-wrinkle effect. Amazingly effective, this innovative formula regenerates the skin, firms the epidermis and redefines the contours of the face. From the first month of application, the skin regains its youthful look, and, after 90 days, wrinkles are reduced by up to 30%!
Clinical tests have been carried out by an independent testing agency among 20 adult volunteers for a period of 90 days. Products were applied twice daily.
MADE IN SWITZERLAND
Anti-wrinkle
Lifting thanks to hyaluronic acid
Moisturizer
Aqua, Petrolatum , Glyceryl stearate, Paraffinum liquidum, Cetyl alcohol, Polysorbate 80, Stearyl alcohol, Hydrogen peroxide , Cetearyl ethylhexanoate, Isopropyl myristate, Parfum, Sodium hyaluronate, Tocopheryl acetate, Persea gratissima oil, Ascorbic acid, Daucus carota sativa seed oil, Retinyl palmitate, biotin , Helianthus annuus seed oil, Tocopherol, Beta-carotene, Alpha Isomethyl Ionone , Benzyl Salicylate , Linalool.
Apply in a thin layer using a brush and without massaging to a thoroughly cleansed face in the morning and/or night. Use as an express treatment by targeting specific areas of concern.

Supplement with a nourishing cream for optimum comfort.

Precaution for use: Contains Hydrogen peroxide. Avoid contact of the product with eyes. If there is eye contact, rinse immediately. Avoid contact with eyebrows and eyelashes, as it may lighten hair over time.
To the best of our knowledge, all product and other information made available on the website is correct. However, all this information, unless otherwise legally stipulated, does not constitute a guarantee, commitment or liability on the part of Dr. Paul and Karin Herzog SA and does not exempt the user from carrying out his own research and tests. The information described here is general information, is not medical advice or treatment and is not intended to replace professional medical care by a qualified or appropriate practitioner. This information is also not capable of making independent diagnosis or relying on their own treatment. Both should be left to a medical practitioner.