FREE SHIPPING
for orders over 150€ !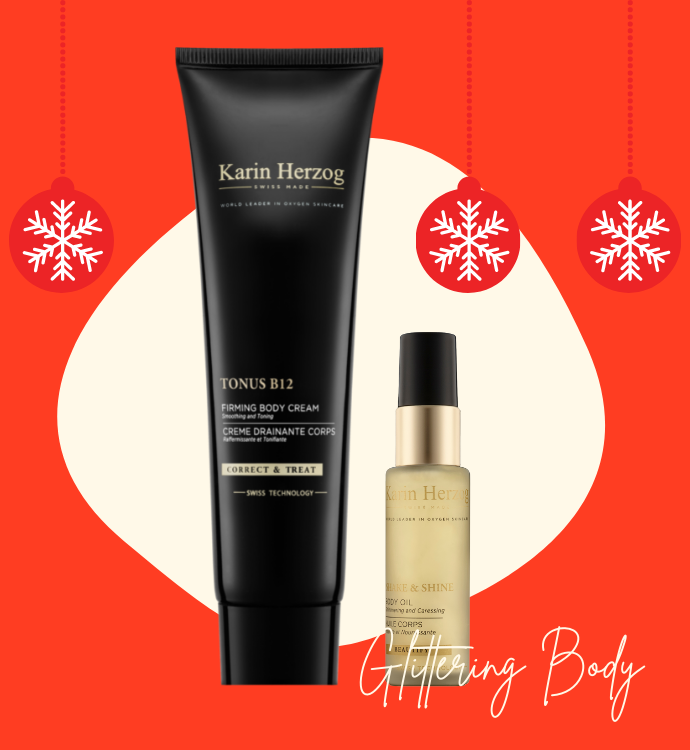 GLITTERING BODY
For a toned and glittery skin
The perfect combination for a toned and shimmery body to sparkle through winter.
This kit contains:
1x Tonus B12, 150 ml
1 x Shake & Shine, 15ml
Nourishing
Softening
Toning
TONUS B12: Aqua, Alcohol denat., Petrolatum, Paraffinum liquidum, Glyceryl stearate, Isopropyl myristate, Tocopheryl acetate, Cetyl alcohol, Polysorbate 80, Stearyl alcohol, Salicylic acid, Cinnamomum cassia leaf oil, Parfum , Formic acid, Alcohol, Maltodextrin, Sodium citrate, Citric acid, Cyanocobalamin, Camellia sinensis leaf extract, Benzyl salicylate, Benzyl benzoate, Cinnamal, Citronellol, Coumarin, Limonene, Linalool. SHAKE & SHINE: Sesamum indicum seed oil, Calcium aluminum borocilicate, Silica, Titanium dioxide (CI77891), Tin oxide, Tocopheryl acetate, Citrus paradise (grapefruit) peel oil, Citrus reticulata (Tangerine) peel oil, Parfum (fragrance), Citral, Citronellol, Geraniol, Limonene, Linalool.
Tonus B12

Massage for a few minutes (feel and roll the skin from bottom to top), in order to drain and evacuate fat deposits more quickly.

SHAKE & SHINE

Shake well the bottle before application to release shimmering flake particles then apply to the décolleté and desired body parts for an incomparable illuminating and enhancing effect.
To the best of our knowledge, all product and other information made available on the website is correct. However, all this information, unless otherwise legally stipulated, does not constitute a guarantee, commitment or liability on the part of Dr. Paul and Karin Herzog SA and does not exempt the user from carrying out his own research and tests. The information described here is general information, is not medical advice or treatment and is not intended to replace professional medical care by a qualified or appropriate practitioner. This information is also not capable of making independent diagnosis or relying on their own treatment. Both should be left to a medical practitioner.