FREE SHIPPING
for orders over 150€ !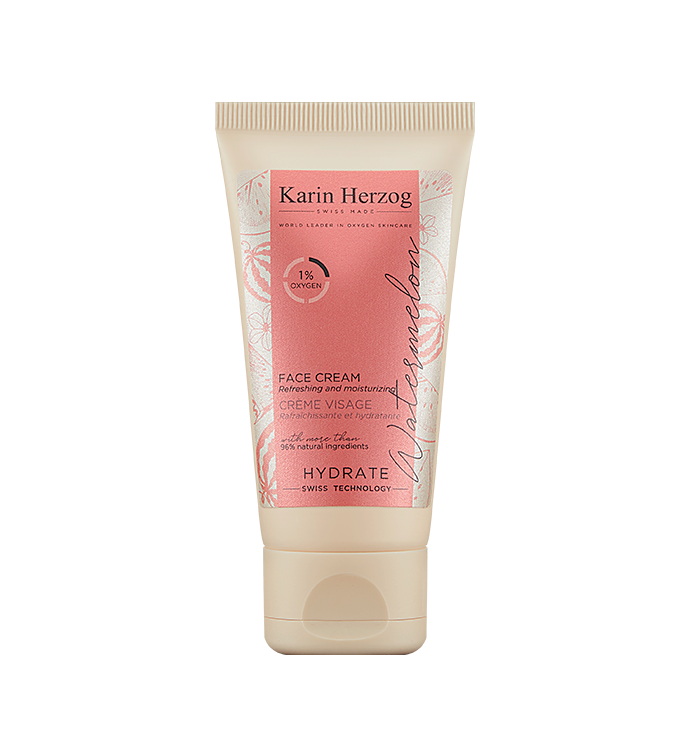 WATERMELON
Dive into the freshness... Watermelon face cream
Formulated with 1% active oxygen combined with a watermelon fragrance, this treatment provides the necessary hydration to the skin while giving a sensation of freshness.
Light and melting texture for an easy application and a pleasant watermelon scent for sensory pleasure.
Oxygenation
Moisturizing
Refreshing
Aqua (water), Olus (Vegetable) oil, Glyceryl stearate, Cetyl alcohol, Sesamum indicum seed oil, Stearyl alcohol, Polysorbate 80, Hydrogen peroxide, Hydrogenated Vegetable oil, Candelilla Cera (Euphorbia Cerifera (Candelilla) Wax), Diazolidinyl Urea, Sodium bicarbonate, Parfum (fragrance)
Ideal as a day cream, apply to the entire face in a thin layer.

Tip: for very dry skin, complete your routine with a nourishing cream.
To the best of our knowledge, all product and other information made available on the website is correct. However, all this information, unless otherwise legally stipulated, does not constitute a guarantee, commitment or liability on the part of Dr. Paul and Karin Herzog SA and does not exempt the user from carrying out his own research and tests. The information described here is general information, is not medical advice or treatment and is not intended to replace professional medical care by a qualified or appropriate practitioner. This information is also not capable of making independent diagnosis or relying on their own treatment. Both should be left to a medical practitioner.